Tropical Page
This page contains abbreviated tropical weather information for the Atlantic. This page is just meant as a quick "snapshot" for tropical weather information. Please read the disclaimer at the bottom of this page. Special thanks goes to NOAA and The Weather Underground for the graphics displayed on this page.
**For an introduction to tropical forecasting, see the Tropical System Forecasting Basics.**
**New to tropical weather and need help finding links? Look at the Tropical Breakdown**
National Hurricane Center (Atlantic)
Active tropical cyclones in the Atlantic, Caribbean, and the Gulf of Mexico
There are no tropical cyclones at this time.
No tropical cyclones as of Wed, 11 May 2011 10:34:51 GMT

Atlantic Tropical Weather Outlook

000
ABNT20 KNHC 231604
TWOAT

SPECIAL TROPICAL WEATHER OUTLOOK
NWS NATIONAL HURRICANE CENTER MIAMI FL
1205 PM EDT SAT APR 23 2011

FOR THE NORTH ATLANTIC...CARIBBEAN SEA AND THE GULF OF MEXICO...

SHOWER ACTIVITY ASSOCIATED WITH A NON-TROPICAL LOW CENTERED ABOUT
360 MILES NORTH OF SAN JUAN PUERTO RICO HAS DIMINISHED...AND
UPPER-LEVEL WINDS HAVE BECOME HIGHLY UNFAVORABLE FOR DEVELOPMENT.
THE LOW IS EXPECTED TO WEAKEN AND MOVE GENERALLY WESTWARD DURING THE
NEXT COUPLE OF DAYS. THERE IS A LOW CHANCE...NEAR 0 PERCENT...OF
THIS SYSTEM DEVELOPING INTO A SUBTROPICAL OR TROPICAL CYCLONE
DURING THAT TIME. ADDITIONAL INFORMATION ON THIS LOW CAN BE FOUND
IN HIGH SEAS FORECASTS ISSUED BY THE NHC/TROPICAL ANALYSIS AND
FORECAST BRANCH...UNDER AWIPS HEADER NFDHSFAT2 AND WMO HEADER
FZNT02 KNHC. THIS WILL BE THE LAST SPECIAL TROPICAL WEATHER
OUTLOOK ISSUED FOR THIS SYSTEM UNLESS RE-DEVELOPMENT OCCURS.

ELSEWHERE...TROPICAL CYCLONE FORMATION IS NOT EXPECTED DURING THE
NEXT 48 HOURS.

$$
FORECASTER BEVEN



Current Tropical Activity from wunderground.com
This image shows current sea temperatures, with an overlay of current tropical weather. It is generally accepted that sea temperatures at or above 26.5C or 80F are needed for tropical system development.
Tropical Cyclone Danger Areas (Atlantic)
Current forecast track and areas at risk from active tropical systems.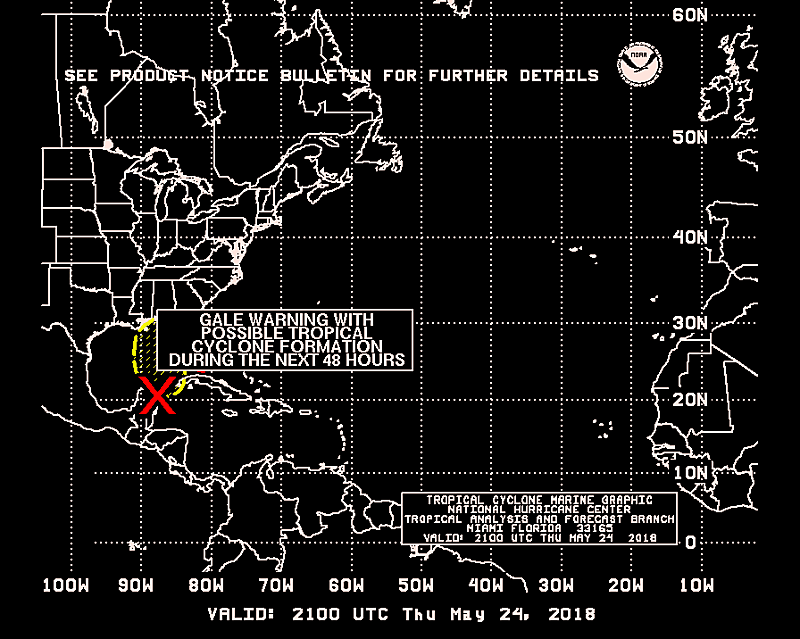 Tropical Storm Formation Probability within 24 hrs
This image shows the current genesis probability of tropical weather. It uses many factors to determine the probabilities, explained here.
24 Hr. Forecast for the Tropical Atlantic
This is a 24 hr. forecast for the tropical Atlantic, created by the NHC.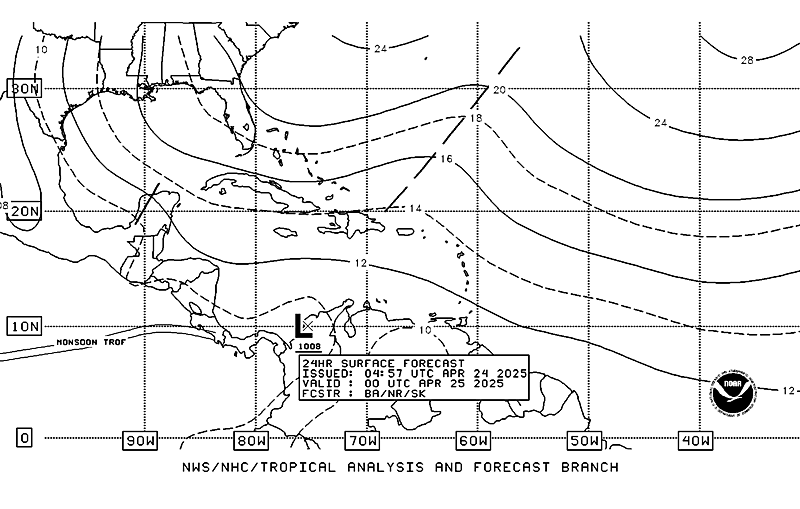 This is the current wind shear in the tropics. High wind shear is hostile to tropical development.
Current Water Vapor Image for the Tropical Atlantic
This is the current water vapor image of the tropical Atlantic. Water vapor images help point out important elements in the atmosphere, including dry air which can be hostile to tropical storm development.
100 Meter Potential Temperature
This map is very large in size, please click the link above to see it. This is the potential water temperature at a depth of 100 meters for the western Atlantic. Generally, most tropical systems need deep water (at least 50m) at a minimum temperature of 26.5C or 80F to sustain themselves. This graphic shows the potential water temperature at 100m.
Useful Tropical Links - (these and many other tropical links can be found in the tropical section of the link directory). For those needing more help on which links to choose, try the Tropical Breakdown page.
National Hurricane Center - THE offical source for tropical weather information in the United States
Wunderground Tropical Weather Page - EXCELLENT collection of tropical weather information
FSU Tropical Page - one of the best tropical sites around. Contains model runs and phase analysis
University of Wisconsin Tropical Page - Contains wind analysis, shear maps, and other data.
NOAA SSD Tropical Satellite Imagery - Imagery for the tropical Atlantic and Gulf of Mexico
Colorado State University Tropical Model Guidance - Model guidance and other links.
NRL Monterey Tropical Cyclone Page - Navy tropical weather page.
**Disclaimer: Use this site at your own risk! It is NOT an official weather information source. This site is NOT to be used in the protection of life and/or property, or used in any decision making process. Consult the National Weather Service, or other official information source for such matters. The timeliness, accuracy, and reliability of the information on this site, and sites linked on it, are not guaranteed. The owner/operator of weathercore.com disclaims liability of any kind, without limitation, arising from the use of this site.**